---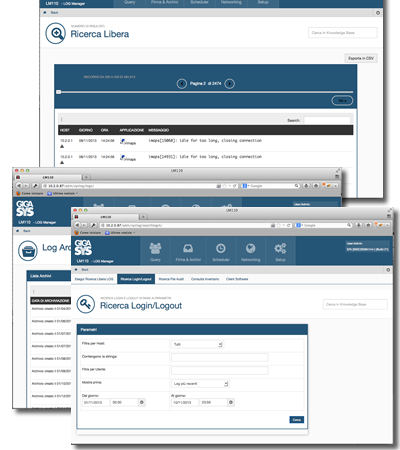 Centralize your Log.
Manage your occurrences.
We present an apparatus dedicated to centralization and storage of network and information systems log.
Capable of archive in real-time the log of any system with Microsoft Windows* 32 and 64-bit, Apple Mac OS X, Unix systems and general network equipment with syslog support, the gigasys log manager allows you to access desired information at a glance.
* NOT supported Microsoft Windows 3.11, 95, 98, ME
Log Manager LM110 replica on it in real time all the Event-log of the configured systems, keeping track of the machine name, application, kind of log, as well as time of day, date, and of course the event itself.
Also available is an optional module for the registration of access log for the IBM AS400 systems, it installed in minutes through a network of resellers Gigasys.
The storage is configurable in XML and SQL-dump with digital signature of the file and the timestamp ensures the integrity of the same.
If it will be made a change, "the seal" would be broken invalidating the reliability of the archived log.
Intuitive consultation mode: search web interface is fast and easy to use and It allows you to have immediatly search data.
Management and access through an easy browser interface.
Why does it simplify the task of system administrators?
Showing in one interface more informations among which errors and previous crash on corporate systems, allows you to always view information about programs or unstable systems. This allows you to give prompt response to statements often too general among users of corporate computer, such as "this program does not work" or "the computer freezes".