---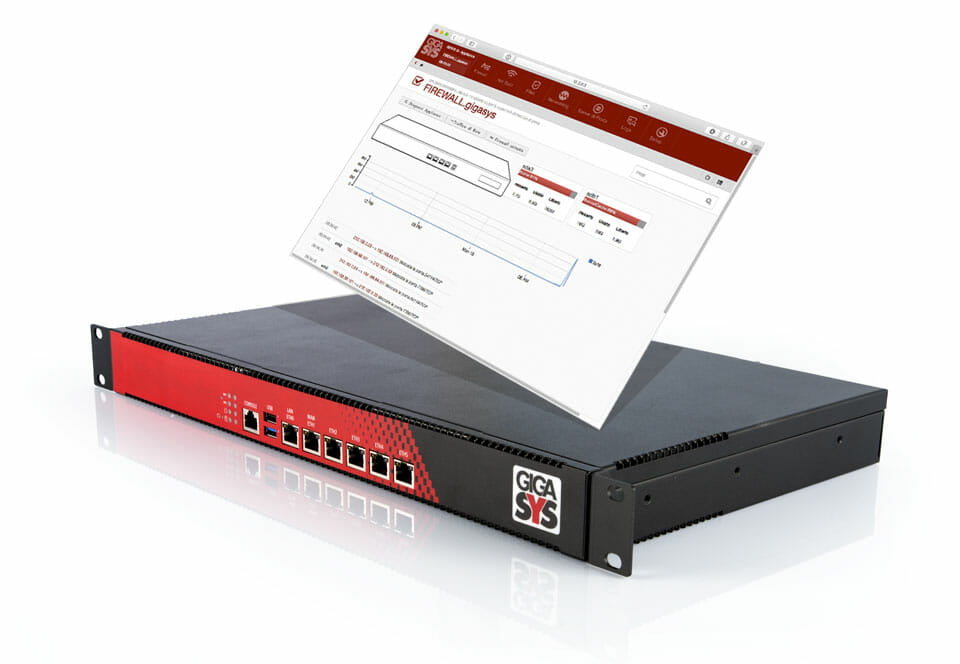 Advanced Firewall
Firewall with an easy manage, customizable all around It manages rules hourly validity and geographical.
Navigation filter
You can have full control over users' browsing.
Antivirus perimeter
check HTTP, POP3, SMTP protocols to identify and stop unwanted software.
Spam filtering
it marks SPAM mails making these easily identifiable by the user.
Bandwidth manager (QOS)
It reserves bandwidth available to the activities that need it most.
IDS, IPS, Bandwidth monitoring
with integrated technology it increases the security level of the LAN
Forget the limitations on email boxes
Mail Server: no limitation on number of users, nor on the size of individual mail boxes, a single message can be up to 2GB
POP3 connector: automatically download mail from external mail boxes, which allows you to bypass the limitations on the remote server, such as the size of the boxes, making the exchange with the client much faster since it is in LAN.
Webmail: webmail integrated accessible from any browser, also allows you to manage custom server-side rules as the auto answer.
IMAP,IMAPs POP3,POP3s, SMTP,SMTPs: Messages can be consult with standard protocols by every client that support these.

Shared conctats and calendars: consultable natively by all clients with support for CalDAV and CardDAV and integrated webmail.
Antispam powerful: mail are analyzed with powerful Antispam and Antivirus filter.
Reach your office wherever you are
Some of other built-in features
VPN Server: it support varius type of VPN for to meet every need.
PPTP(GRE), L2TP: with a quick and easy configuration it allows connection from any modern operating system including tablets and smartphones.
IPSec: It provides interaction with third-party systems that use this type of VPN.
OpenVPN: it allows you to connect to other devices within one secure network. VPNs allow you to keep your online data safe by tunneling them through encrypted servers, but if you're looking to keep that very same information safe, and share it with your collabrators.
Instantly VPN Lan to Lan: establish a tunnel between two Gigasys applaince is fast and easy.
Compatibility: VPN connections to the system can be performed by most modern operating system.
Server DHCP, server DNS, server FTP, Fax to Mail and Mail to Fax services, Web server, Cloud Drive.
Firewall is completely configurable, also available in cluster mode with load balancing for the top-security and maximum performances.
Compatible with Microsoft Windows, Apple Mac OS X and Linux systems.
Web management:  ease of use and completly manageable through any modern browser.
Support and assistance: the yearly CarePack Gigasys, included for the first year with a new appliance puchased, permet to obtain all Support and Assistance you need. We offer also extended warranty hardware and software plans purchased with the product.
Automatic Updates: with the annual CarePack Gigasys you get automatically latest software updates.
Complete security for your LAN
The S series of GIGASYS is a dedicated solution to the comprehensive protection of corporate networks.
Gigasys security appliance are designed to meet the needs of companies of every size and industry.
In only one product you have aviable a gamma of features
that provide the most protection and control as possible.
Some features of our security products:
Browsing controlled:It allows you to gain full control of the company's browsing.
Manage inappropriate browsing: based on fiifteen categories combined together  allow access only to sites with relevance to the company's work (e.g. block pornography, dope, gambling, etc).
Manage of Whitelist and Blacklist: It allows you to define which sites are reliable, allowing you to show and which ones are blocked.
Full Log: Record what sites were visited, when and what was downloaded for each computer.
BlackHole DNS: cancels DNS requests to domains specified so as to prevent the connection regardless of protocol or from the app used. This feature is often used to block facebook, twitter etc..
Browsing group: allow to manage different filtering policies according to their own group.
Authententication: if is in transparent mode: no configuration on the client is not required because filtering in based on IP address. If you select autentication mode it prompts username and password, users can be created directly on server or imported from Active Directory domain. Browsing setting can be released automaticlly via DHCP.
Time rules: it allows to create time navigation rules.
Privacy: It 'important to remember that system is respectful of privacy, not allowing the unique identification of the specific computer and / or user if not explicitly set.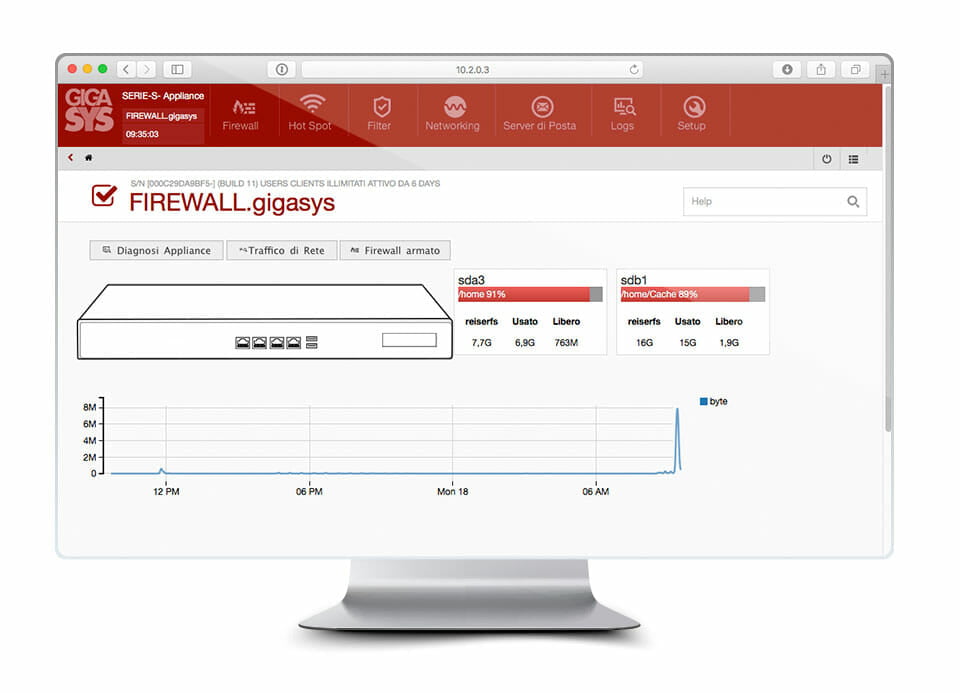 Hotspot
Hotspot: thanks to the versatility of the Hotspot function and safety of the integrated Radius protocol, our firewall meets all the control requirements for public browsing.
Indicated in all those organizations such as hotels, bars, restaurants, camping sites, etc.
Self register:automatic registration via sms (requires external SMS providers to work) by users, useful if you want to provide navigation as a free service.
Post payment: you can create customized billing plans using both consumption users and voucher with limited use.
Full Log: recording a complete log of the operations performed by users.
Stay connected
Multiple xDSL managemant: the system can be manage two or more xDSL, the number of these is limited only from the physical network interfaces.
Load balancing: traffic is routed automatically on all ADSL active based on the priority defined, significantly improving the user perceived surfing speed.
Failover: in case of malfunction of a line all other connections are routed to active lines and automatically back to normal after restoring the connection.
ADSL Routing: you can route a specific port or a given ip on one xDSL.